When the Kapitol Group was touted as one of Australia's best places to work in 2021, the company wanted its new corporate headquarters to further live up to that reputation. By utilising Armourpanel® and Armourfloor® premium interior plywood, FA Mitchell's peers at Big River Group helped turn the vision for Kapitol's office design into reality.
The project brief: A biophilic office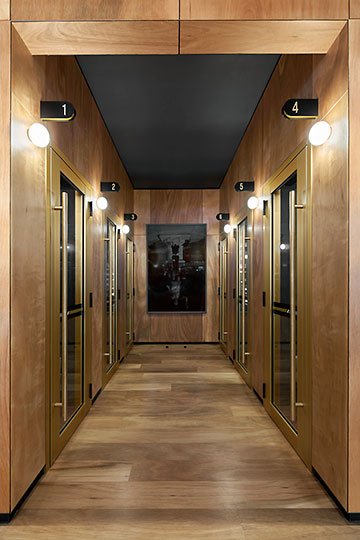 The Kapitol Group is one of Australia's fastest-growing construction companies. The group needed an office in downtown Melbourne that could meet the contemporary and future needs of their workplace. The office also had to be at the forefront of sustainable architectural design. The construction company's values and lauded eye for detail had to be evident in its interiors.
Kapitol had commissioned March Studio to create a biophilic design for their office. Biophilic design is a growing architectural trend. It incorporates natural materials, textures, and tones to bring the feel of a natural outdoor environment indoors. This fosters a deeper connection with nature and has a powerful positive effect on people who use the space.
"We took cues from a variety of different working environments to deliver a space that is sympathetic towards flexible working arrangements and has been designed to maximise employee well-being," said March Studio architect Rodney Eggleston.
March Studio's design for the new Kapitol headquarters needed timber products for its floors, walls, desks and furniture. The material had to be of premium quality and from a sustainable source. It also needed to be robust enough for busy foot traffic.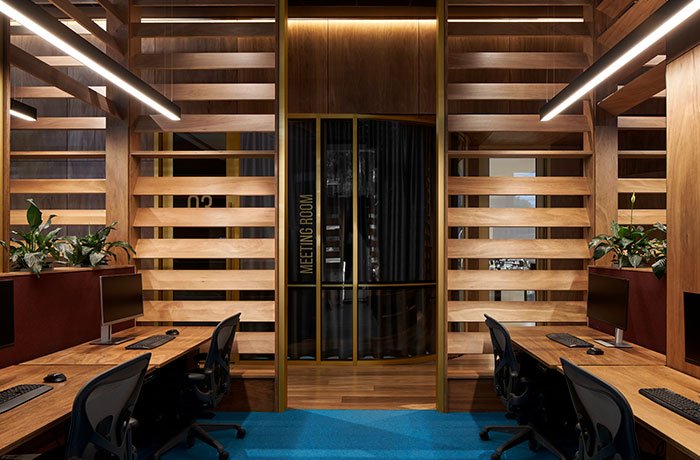 Premium plywood solution for biophilic office design
Kapitol and March Studio decided to use premium plywood products Armourpanel® and Armourfloor® in Spotted Gum. Our peers at Big River Group (which we are part of) supplied these products and aided in the bespoke application at the site.
Armourpanel® and Armourfloor® have become increasingly popular plywood choices for biophilic designs in Australia. When you require precision-engineered wood of the highest durability, these are perfect for the job.
Apart from their exceptional strength, Armourpanel® and Armourfloor® maintain the natural characteristics of the selected wood. Each species' unique grain structures remain visible in the final application.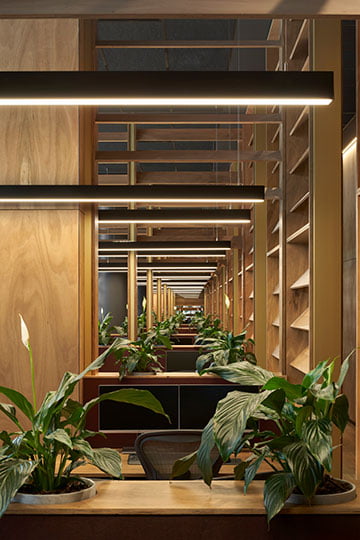 "The plywood is a linking feature throughout, connecting each space and adding depth and richness to the overall design," said Eggleston. "It is such a beautiful product to work with."
A vision realised
The result has been a stunningly beautiful and highly liveable office space. The Australian timbers added a rugged appeal throughout the whole range of modern office amenities. Thanks to Armourpanel® and Armourfloor®, the plywood office design brings a comforting intimacy to all their open-plan, activity-based and conference rooms.
"We are thrilled with our new head office," said Andrew Deveson, co-founder and director of Kapitol Group. "The outcome speaks for itself. We've had no issues encouraging our staff to return to the office after the COVID lockdowns, our office is full most days."
Get premium interior plywood for your office design
FA Mitchell exclusively sources all its plywood from accredited plantation forests in Australia. We adhere to stringent Australian standards. The Engineered Wood Products Association of Australasia (EWPAA) audits all of our plywood.
Being part of the Big River Group, we can provide you with Armourpanel® and Armourfloor® premium interior plywood for your own cutting-edge design, too.
Contact us today and find out how FA Mitchell can help you realise your vision!