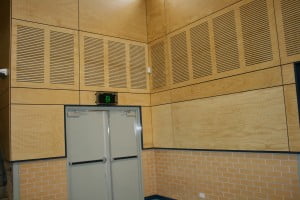 Acoustic Plywood Supplier in Sydney
FA Mitchell supplies an extensive range of acoustic plywood sheets to its clients in Sydney and across Australia. We source 100% of our plywood from local plantations that are guaranteed renewable and certified with zero formaldehyde emission rating.
What is Acoustic Plywood?
Our acoustic panel carries the trade name Sonapanel, and it comes with three distinct benefits. It offers a Fire Retardancy Certificate, termite resistance and above all, a truly effective acoustic system.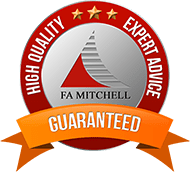 General Features of Acoustic Plywood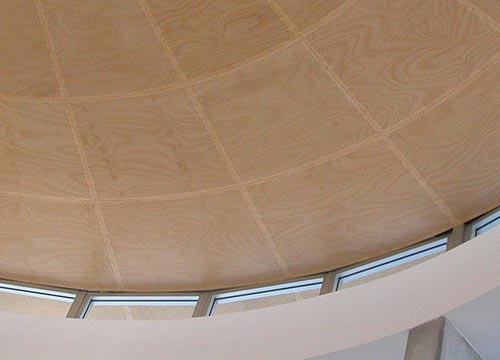 Some rooms may look great, but have plenty of hard, flat surfaces that affect the sound inside them. Because of that, plastered walls, timber floors or tiles amplify the level of noise because they reflect sound. This can lead to stress, nausea and in some cases, tinnitus.
Sonapanel is designed to produce interesting effects. It answers any need for the elimination of sound reflection. This is the reason why this acoustic panel is popular for home theatre setups and music rooms.
Sonapanel offers a brilliant acoustic alternative. You can use these acoustic panels for conference rooms, reception areas, large classrooms and home cinemas.
Your Acoustic Panels Supplier in Sydney and NSW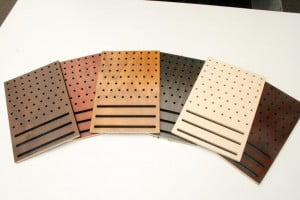 We work on the brief provided by the client and create holes and slots in different patterns, catering to different levels of sound reflection. There is a wide range of fabrics and colours for you to choose from. We can supply you with the acoustic plywood you need and send our in-house installers to fit the acoustic plywood at the actual site.
Based on their suitability for perforating, we can perforate MDF boards and veneered ply. We offer thicknesses ranging from 3 mm to 25mm, and while the standard size on offer is 2400×1200 mm, we make various other sizes available, too. These acoustic panels come in a range of sizes that includes (but isn't limited to) 1800x900mm and 2700x1200mm.
We also use a unique treatment process that completely eradicates discolouring and surface residue, presenting a blemish-free surface for staining and lime wash painting. At FA Mitchell, we offer a C.S.I.R.O certified Fire Retardancy Certificate and termite resistance compliant with AS1604.
For purposes of clean and exact shoulder cutting, we use a drill bit with a rotating helical screw (auger) and the very latest scribe. Thus, we can perforate 4-18mm of thickness and achieve levels of 2.75% to 39% of surface loss for these acoustic panels.
Plywood Sourced from Australian Forests
With some plywood distributors, you can never really be sure about the quality of the plywood you're getting or the source of the ply. Their manufacturers could create the plies in Bali or Indonesia and deliver these to Australia via Singapore. Most overseas suppliers do not offer a zero formaldehyde emission rating, which is a crucial quality parameter.
FA Mitchell sources plywood only from accredited plantation forests in Australia, which means they are always of the best quality. We maintain strict levels of quality and have our products audited by the Engineered Wood Products Association of Australasia (EWPAA).
We supply acoustic plywood throughout Australia from our Sydney warehouse and wood cutting facility. Use the details below to get in touch with the acoustic plywood experts at FA Mitchell to ensure you get the right product at the right price.
Get a Quote
For personalised advice and a quote for your project, please call (02) 9646 2777 or fill out the form below, and we will respond to you as soon as possible.