You need not look far to find plywood that brings both beauty and strength to your construction's interiors.
As a member of the Big River group we can supply you with Australia's strongest and most decorative interior plywood, Armourpanel® and Armourfloor®.
Armourpanel® is available as a 2400 x 1200 sheet or the optional 1800 x 1200 sheet. We also offer a fast cut to size service that can handle large volumes.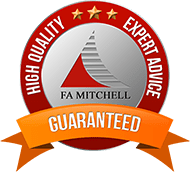 What is Armourpanel?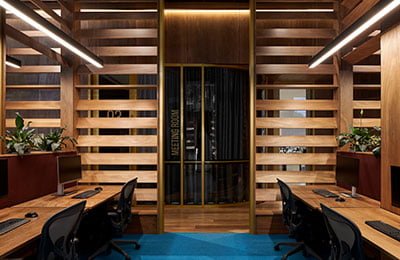 Armourpanel® is Australia's strongest decorative plywood. Layers of tightly bonded Australian eucalypt hardwood veneers form panels of exceptional strength, stability and solidity.
Each sheet has been designed, tested and approved for use in extreme heat and humidity. It can tolerate extremes of heat and humidity or sudden changes in ambient temperature. Its toughness and resistance to shrinkage make it the ideal material for wall linings, ceilings, and floors, even in high-traffic areas.
The natural varying beauty of Australian hardwoods shines through in each piece of Armourpanel®. No two sheets are alike, since no wood pattern ever repeats itself in nature. Every sheet you get has its all-natural individual look.
The beauty and durability of these hardwood veneers are what make Armourpanel® the popular choice for luxury residential or commercial applications. With just one plywood brand, you get all the elegance, strength and durability that your project requires.
What is Armourfloor?
If you want a more cohesive use of material from top to bottom, go with Armourfloor® as well. Armourfloor® is the most stable timber flooring available in Australia and New Zealand markets today. It is sourced and manufactured in Australia from the same sustainable native eucalypt hardwoods that Armourpanel® is made from. Thus, you get the same natural beauty and durability for your interior floors.
Every Armourfloor® board is made up of five layers of Australian hardwood veneers that are bonded in a cross-ply structure. These boards have extreme stability and versatility; you can use them as a floating floor or glued directly to an existing subfloor (even concrete).
Armourfloor® is available in board widths of 138mm and 189mm. The standard length is generally 1800mm, but you can also get boards up to 2400mm in length (subject to availability). The boards come in four native Australian hardwood species for you to choose from. Armourfloor®also comes to you uncoated, so you have the option for custom finishing on-site. (Note: Flooring packs delivered to your site will also include 40% extra random plywood lengths, to help deal with every corner of your flooring layout.)
Benefits
Choose Armourpanel® and Armourfloor®, and you get the following: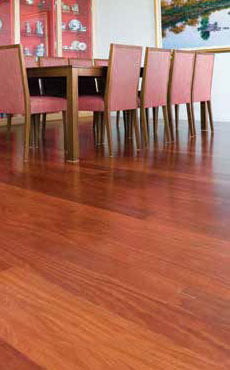 Easy elegance and durability combined – You get both beauty and structural strength in one plywood. Special cross-ply construction with native hardwood creates extremely stable sheets and boards that have natural beauty.
Beautiful hardwood options – Choose from any of four native Australian eucalypt species (Blackbutt, Spotted Gum, Sydney Blue Gum, and Flooded Gum) with unique colours and natural markings.
Straightforward installation – Easy tongue-and-groove system
Customised cuts – Different board widths and lengths to choose from, to adapt to any floor layout
Custom-finish option – Armourpanel® and Armourfloor® come to you uncoated. So you can sand, polish, or custom-finish the plywood to your specifications.
Easy maintenance – Armourpanel® and Armourfloor® are guaranteed to endure Australia's harsh and varying climates; will not require on-site acclimatisation when newly installed
Better safety – Plywood has a 25-year stability warranty
Smarter investment – Armourpanel® and Armourfloor® are competitively priced and come from a reliable Australian company. You get the highest quality and best value for your money.
Where to use Armourpanel and Armourfloor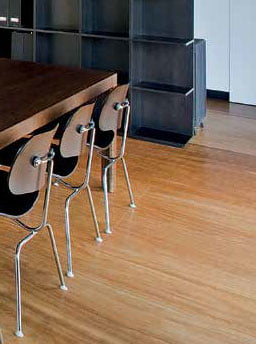 Armourpanel® and Armourfloor® were designed to provide beauty and maximum durability in interior spaces.
Thus, these are best used for walls, ceilings and floors within indoor areas that must provide a natural-looking and relaxing environment while enduring heavy foot traffic. For example:
Hotel lobbies and rooms
Public indoor assembly areas
Schools
Public libraries
Boutique stores and other retail sales areas
Offices
Theatres and performance stages
Hospice care rooms
Rental apartments and condominiums
Museums
Airport terminals
Shopping malls
Technical details
Armourpanel
Species
Blackbutt, Flooded Gum, Spotted Gum, Sydney Blue Gum
Sheet Sizes
2400 x 1200, 1800 x 1200 and 1200 x 1200mm
Sheet Thicknesses
typically 15, 18, and 21 (contact FA Mitchell for other thicknesses)
Sheet Grades
C-D and D-D
Glue Lines
Durable Type "B" bond
Face Veneer
3.0mm before sanding
Manufacturing Standards
AS/NZS2271-2004 (manufacturing)
AS/NZS2269-2012 (stress grading)
AS/NZS2269-2012 (face material)
Armourfloor
Dimensions
138mm
189mm
Species
Blackbutt, Flooded Gum, Spotted Gum, Sydney Blue Gum
Blackbutt, Flooded Gum, Spotted Gum, Sydney Blue Gum
Board lengths
500 – 2400mm
500 – 2400mm
Width
138.6mm
188.98mm
Board Thickness
14mm +/- 0.2mm
14mm +/- 0.2mm
Glue / Lamination
exterior B-bond
exterior B-bond
Manufacturing Standards
AS/NZS 2269-2004
AS/NZS 2271-2004
AS/NZS 2269-2004
AS/NZS 2271-2004
Timber Species Properties
Species
Average Density (kg/m3)
Colour
Hardness
(JANKA kN)
Blackbutt
900
Pale brown
9.1
Flooded Gum
750
Pink to pale red-brown
Dark pink to red-brown
7.5
Spotted Gum
950
Light brown to light reddish-brown
11.0
Sydney Blue Gum
800
Reddish pink to dark pink
9.0
Your Armourpanel Supplier in Sydney and NSW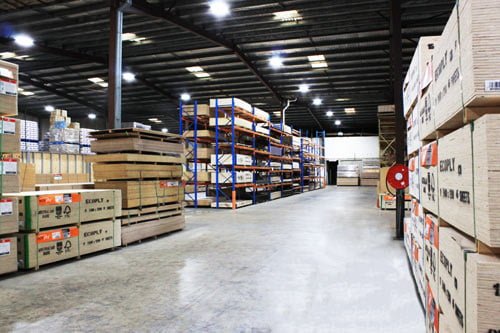 For the past seven decades, FA Mitchell has supplied superior-quality plywood products to Australian organisations and businesses. We've made our name by providing one of the best plywood, wood-based products and related services in the country.
We are proud of our plywood because we are 100% compliant with Australian standards. We make sure the Engineered Wood Products Association of Australasia (EWPAA) audits our products before we sell them to you.
FA Mitchell is a part of the renowned construction materials producer, Big River Group, the makers of Armourpanel® and Armourfloor®.
Contact Us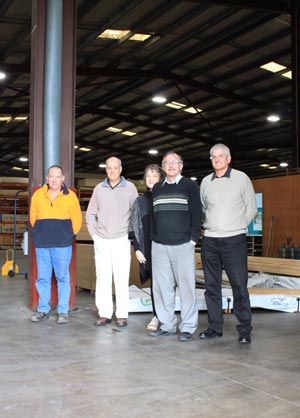 Consult with the Best – Our in-house specialists are readily available to offer tailored advice, drawing from a well of experience that few can match. They'll guide you on how to optimize the use of Armourpanel® and Armourfloor®, ensuring you reap the full benefits of this exceptional material.
Call us at FA Mitchell on (02) 9646 2777. Or simply fill in the form below.