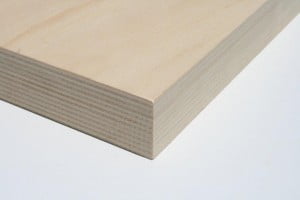 FA Mitchell supplies an extensive range of exterior plywood to its clients in Sydney and across Australia. Our plywood is 100% sourced from local plantations that are guaranteed renewable and certified with zero formaldehyde emission rating.
What is Exterior Plywood?
Exterior plywood is an Appearance Grade plywood of high quality. When finished appropriately, it can be used for interior-lining applications and semi-exposed external applications. Exterior plywood is manufactured from hoop pine and offers F14 stress grade (minimum working stress in bending). It has a Type A Phenolic bond quite similar to marine ply.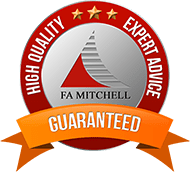 General Features of Exterior Plywood
Ideally, exterior plywood is used for clean, stain-free surfaces of walls and ceilings and while interior plywood cannot be used outdoors, exterior plywood is more versatile and can be used both indoors and outdoors. When ply is manufactured for the purpose of external use, waterproof glue is used between each of its layers. This glue hardens to form a crystalline substance which is resistant to moisture.
This is a prime reason why exterior plywood is a constant presence in internal applications, especially in humid, high-moisture areas. Storage area and refrigerated area are two examples out of many such applications. Exterior plywood also works great as a subfloor. Its ability to resist moisture is put to good use in case of subfloors because it does not let moisture penetrate from beneath the floor surface, and it also tackles water spilled from above.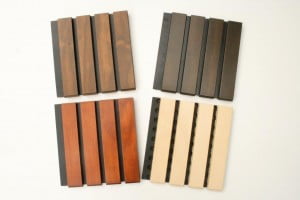 Exterior plywood is perfectly capable of holding its own against adverse weather conditions but it is advisable to give it a coat of paint or finish if you have to expose it to direct sunlight or water. Endurapanel, a product recently introduced in the market, treats exterior plywood with an especially formulated coloured stain that keeps its surface protected. The Ariaply in particular is good for ceilings, balconies and other exposed areas.
It can also be used for many other internal applications that may include–but not restricted to–sinks, countertops and interiors of cabinets.
Other Features and Benefits
It is manufactured in compliance with Australian Standard AS/NZS 2271 and AS/NZS 2269.
It has a face grade A (the best grade), back C and an X mark which implies it is designated for exterior applications.
It has a Zero (EØ) formaldehyde emission rating
It comes in two panel sizes: 2400×1200, 2700×1200
The available thicknesses for exterior plywood are: 1.5mm, 4mm, 6.5mm, 9.5mm, 12.5mm, 16mm, 19mm, 25mm, 32mm
It is suitable for wall and ceiling linings, semi exposed soffits (ceiling connecting external wall with the roof's outer edge) and fitouts of shops.
It is also available with B or C grade face veneers
Our Range Includes
Hoop Pine AS2271
Found largely across the dry rainforests of New South Wales, Queensland and New Guinea, Hoop Pine is a species which we associate with high quality timber. One of its products, AS 2271, meets Australian Standard 2271 and is stronger than marine plywoods meeting British Standard BS 1088. Hoop Pine AS 2271 is great for external areas which do not require a structural application but need an aesthetic finish. Hoop Pine AS 2271 is considered a stable plywood and can offer closed grain veneers with a superior quality painted finish.
---
Fiji Cedar AS2271
Fiji Cedar manufactured to Australian Standard AS 2271 can be suitably applied to ceilings, furniture, cladding, walls and roof linings. They are surface finished to reduce any possibility of surface checking and have A bond glue line with sanded faces on both sides.
Your Exterior Plywood Supplier in Sydney and NSW
The plywood we offer at FA Mitchell is sourced from accredited plantation forests in Australia. We stick to stringent Australian standards and our products are audited by the Engineered Wood Products Association of Australasia (EWPAA). When buying through some of the other distributors, you cannot really be sure about the source of the ply. What if the ply is manufactured in Indonesia or Bali and distributed via, say, Singapore, passing through several intermediary locations before finally reaching Australia?
In the end, it may turn out to be low grade overseas plywood, the quality of which you can never be sure about. Overseas plywood manufacturers typically do not offer zero formaldehyde emission ratings for their exterior plywood (as a general rule), and it's something that we never fail to do.
We supply exterior plywood throughout Australia from our Sydney warehouse and wood cutting facility. Use the details below to get in touch with the exterior plywood experts at FA Mitchell to ensure you get the right product at the right price.
Get a Quote
For personalised advice and a quote for your project, please call (02) 9646 2777 or fill out the form below, and we will respond to you as soon as possible.