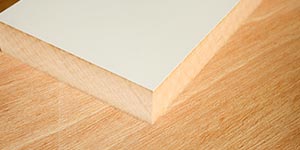 FA Mitchell supplies an extensive range of melamine to its clients in Sydney and across Australia. Our plywood is 100% sourced from local plantations, and is guaranteed renewable and certified with zero formaldehyde emission rating.
What is Melamine?
Melamine is a thermally-bound paper finish saturated with resin. It exhibits various properties of the plastic laminate and is bonded into the core of a particleboard. Melamine does not look like real wood and must be applied wisely. While you can use it for cabinet interiors, you won't be able to fool the eye if you use it on exterior surfaces.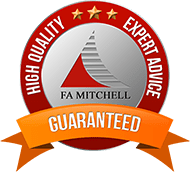 General Features of Melamine
Unlike plywood or solid wood, melamine's particleboard edge makes it more vulnerable to damage and hence you must think twice before putting it in heavy-use areas (for such areas, PVC edge or solid wood edge is more of a norm). Still, homeowners love it because of its cheaper price, durable surface and the fact that it lends itself well to indoor cabinetry. The surface is easy to clean, a fact that accounts for its popularity with medical facilities.
It is worth remembering that while working with melamine you have to aim for a straight edge before running the saw. The factory edge on the plywood sheet is not straight, after all. Melamine is heavy and it may be wise to use an adjustable-height cart for the purpose of loading it on to the saw table. Also, melamine can be slippery and hence the need for nitrile gloves to maintain a strong grip on it while working on it.
Your Melamine Supplier in Sydney and NSW
The Melamine offered at FA Mitchell passes through various quality tests. We are sticklers for quality and our products are audited by the Engineered Wood Products Association of Australasia (EWPAA) without exception. Unlike most overseas manufacturers, our melamine plywood offers zero formaldehyde emission rating.
Our plywood is also sourced from accredited plantation forests in Australia, which is the very reason why they are always of the highest quality. With other distributors, you might have doubts about the source of the ply, and you would be right. For all you know, their products were manufactured in Bali or Indonesia and exported to Australia via Singapore. The fact that we have in-house contractors who can cut to size and create edges as specified by clients is another reason why we have the advantage as far as quality is concerned.
We supply melamine throughout Australia from our Sydney warehouse and wood cutting facility. Use the form below to get in touch with the melamine experts at FA Mitchell to ensure you get the right product at the right price.
Get a Quote
For personalised advice and a quote for your project, please call (02) 9646 2777 or fill out the form below, and we will respond to you as soon as possible.