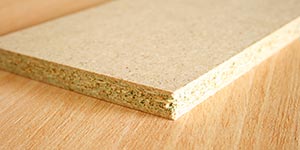 FA Mitchell supplies an extensive range of paticleboards to its clients in Sydney and across Australia. Our particleboard is 100% sourced from local plantations that are guaranteed renewable and certified with zero formaldehyde emission rating.
What is Particleboard?
Particleboard is prepared from sawmill shavings, wood chips and even sawdust if need be. Its layers are glued with a synthetic resin which is pressed and pushed through a dye of desired cross-section. It is neither plywood nor solid wood. It is just small chips glued firmly for preparing boards or sheets.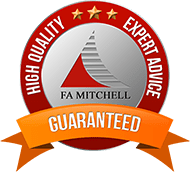 General Features of Particleboard
Particleboard is not very sturdy. It is not your best bet for frequent house-changes. It is also vulnerable to moisture damage and is likely to last for only 2-3 years. While it is a handy option for lining cabinet walls, it is no good when it comes to bearing heavy weight. All this said, it has a host of advantages, too.
For one, it is cheaply priced. The cost is nearly half or even less compared to the other variants like plywood or solid wood. It can be mass manufactured and produced to machine-cut dimensions. In the absence of any real carpentry work, it comes more or less ready to use and this counts as a great advantage.
When a particleboard is manufactured, a thin pre-laminate board is glued to its surface. While buying plywood, customers have to select the laminate separately. This adds to the whole cost, which is not the case with particleboard.
In the early 1950s, particleboard made its entry into our kitchens. However, it was a very expensive option then. Over time, the cost kept dropping and today, it is among the cheapest options available to us.
Particleboard is prone to give out wood dust. Often, these are very fine flakes which are released due to sawing or routing. Release of formaldehyde is also a concern and at FA Mitchell, we are quite alert to such possibilities.
Our Range Includes
Standard Grade
High Moisture Resistant Grade (HMR)
Timber Veneer
Melamine Overlay
Your Particleboard Supplier in Sydney and NSW
Having been around for 68 years, FA Mitchell has seen many trends pick up and many others silently fade away. We have always been sticklers for quality and our pursuit is just as relentless even when it comes to the structurally weak particleboards. Our products are tested for various quality parameters and the mill produce is audited by the Engineered Wood Products Association of Australasia (EWPAA).
We supply particleboard throughout Australia from our Sydney warehouse and wood cutting facility.Use the details below to get in touch with the particleboard experts at FA Mitchell to ensure you get the right product at the right price.
Get a Quote
For personalised advice and a quote for your project, please call (02) 9646 2777 or fill out the form below, and we will respond to you as soon as possible.