Not everyone involved in your construction project is an experienced contractor or tradesman. For instance, some people in charge of purchasing or administrative tasks might be unfamiliar with certain words or technical terms the plywood manufacturing industry uses. Because of this, you can never be sure they're on the same page with your plywood sheet supplier. This can cause costly delays or mistakes whenever you try choosing the best type of plywood to use. So here are the essential plywood terms all of you need to know.
Glossary of Terms
Back
This is the side of a plywood sheet with the lower grade outer veneer.
Many plywood sheets come with different outer veneers. You will best see the difference between the front and back sides in plywood for decorative cladding (e.g., Shadowclad plywood).
Cathedral Grain
This is a specific grain pattern in plain-sliced or flat-cut veneers. It is characterised by a series of stacked "V" and inverted "V" shapes.
Core
These are the inner layers of a finished plywood sheet. Plywood cores vary across the different plywood types. Depending on the plywood type, cores can be lumber, plywood veneers, particleboard, MDF, or a combination of these.
Regardless of makeup, the grain of the core runs perpendicular to the plywood sheet's outer plies.
Crossbar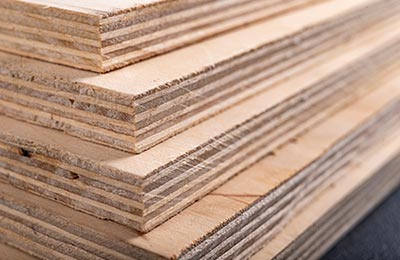 A defect or imperfection in the plywood wood grain that runs perpendicular (i.e., at right angles) to the length of the board.
Ideally, the highest quality plywood should have very few of these defects permitted into the plywood panel manufacturing process. (Lower grade plywood will still have such irregularities.)
Cut
The way a log is cut. Examples: rotary cut, rift cut, plain slice, quarter slice, half-round slice.
Delamination
The unwanted separation of plies (inner or outer) in a plywood sheet, due to poor adhesive bonding.
Equilibrium moisture content (EMC)
This is the moisture content any wood component (i.e., solid wood, plywood, MDF, particleboard or chipboard) must have to stop either absorbing or releasing more moisture. If plywood goes below or beyond its EMC too often, the material can expand or contract over time – thus, causing warping or serious damage.
Face
The "front" or higher-grade side of a plywood sheet.
Grade
This is a standard for classifying veneers according to quality and species. There are 6 standard face grades for the front ( AA, A, B, C, D, and E) and 4 for the back (1, 2, 3 and 4).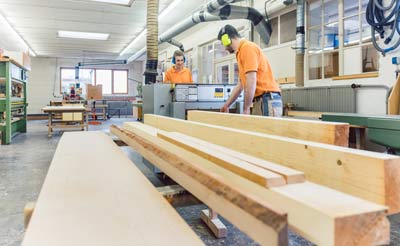 Grain
The natural pattern and growth direction of the wood fibres in a veneer.
Half-Round Slicing
When a log is cut tangential to its growth rings, the result is a plain sliced or rotary grain pattern.
Hardwood
Any wood produced from species of deciduous tree lumber or veneer such as maple, ash, and oak. Do not confuse this with the actual density of the wood.
Marine Plywood
This is good quality exterior plywood that can withstand moisture and weathering by the elements. It is made of hardwood plies bonded with waterproof glue (undiluted phenolic resin). The highest graded marine plywood boards are lightweight, strong, and free of defects.
Marine plywood is a popular choice for waterproof floors (for indoor or outdoor applications) and boat interiors.
Matching
Any method of placing sheets of veneer together to create a pattern.
Medium Density Fibreboard (MDF)
A highly versatile wood flour material made up of highly compressed pressure-cooked wooden fibres combined with synthetic resin or other bonding systems.
Prized for the quality of its cut edges, you can use MDF as a structural component (e.g., in built-in furniture). Or you can use it to form a decorative surface ready for painting.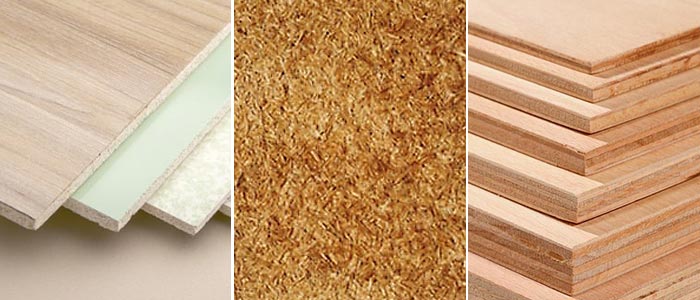 Mineral Streak
A discolouration of hardwood and hardwood veneer.
Oxidation
The result of exposure to the elements is usually yellowing, browning, or greying discolourations.
Particleboard
Particleboard is an engineered wood product made of small wood particles and wood fibres (i.e., sawmill shavings) that were pressed together with a bonding resin. (Some people also call these 'chipboards.')
These either form the core material of some types of plywood or come as pure particleboard panels.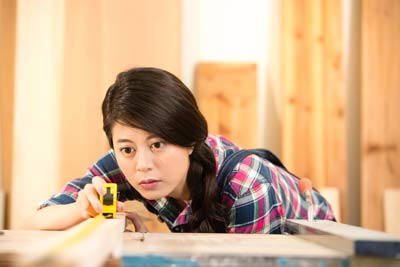 Patches
Material placed onto defects in veneers to repair voids and other imperfections.
Plain Slicing
When a veneer is sliced off from a log, parallel to that log's pith (and tangent to the growth rings), this is called "plain slicing." Also called a flat-cut veneer.
Manufacturers achieve this using either a horizontal or vertical slicing machine or by the "half-round" method with a rotary lathe.
Ply
A ply is a single sheet of veneer in a wood panel product. A sheet of plywood is made of several plies.
Plywood
A plywood panel is made of layers of veneer joined together by an adhesive.
Quarter Slicing
A veneer cutting method that achieves a straight grain appearance through the process of quarter-slicing. Manufacturers usually slice a log at right angles to the annular growth rings.
Radial
The line that runs from the centre of the log across its growth rings.
Rift Cut
A veneer cutting method where a log is cut into quarters and then at a 90-degree angle to the grain direction to produce a grain similar to a quarter cut, without the apparent flake.
Manufacturers commonly do this for Red and White Oak to reduce the "fleck."
Rotary Cut
This is a method of cutting or peeling a veneer off a log that results in a wild and wavy grain pattern. The whole log is centred on a cutting lathe and turned against a broad stationary blade.
Sapwood
The outer layers of living wood in lumber. In a living tree, these layers are between the heartwood and bark. They carry and store nutrients for growth (contained in the sap that seeps through them).
Plywood manufacturers make veneers by carefully cutting away these layers.
Slip-Matching / Slip-Matched
This is a term for laying veneers side by side to form a repetitive grain on the finished sheet.
Splits
These are cracks in the wood fibre of a veneer that run parallel to the grain.
Sonapanel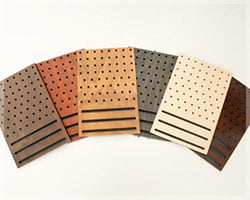 An acoustic plywood system designed to help manage ambient noise levels. It is highly effective at eliminating sound reflection. It makes a brilliant acoustic alternative for conference rooms, reception areas, large classrooms and home cinemas.
Termiply
A brand of treated plywood that has minimised vulnerability to termite attacks. It is suitable for the interior linings of walls and ceilings, installation behind plasterboards, or as backing and bracing panels for fabric notice boards.
Veneer
These are thin sheets of wood that manufacturers peel or slice off wood logs. They process and use them to make the plies or layers of plywood.
Need help with your plywood supplies?
The plywood experts at FA Mitchell can deliver you the right plywood for the job. We not only supply you with high-quality plywood and other wood products. We also give you the right advice on which wood product best serves your needs. Contact us today and we will be happy to assist you.