We have all heard about the green movement and the importance of reducing our carbon footprint. We are quite aware of the concept of environmental-friendly buildings. In fact, being 'green' is one of the top and unique selling points for just about anything these days.
Traditional lumber certainly fits the eco-friendly profile, and that makes them quite popular for construction purposes. However, traditional lumber is not without its disadvantages.

The case of traditional lumber
We know that it was acquired by cutting trees and the lumber we get out of it could not really be of a particular shape and size. Buildings need a specific size and shape of lumber to support them and eventually a lot of traditional lumber get wasted in the process. Put another way, the volume of lumber cut down is abysmally high in proportion to what is actually being used in buildings.
Engineered wood product- a brilliant alternative
The engineered lumber product was an automatic answer. Not only did it prevent wastage but it also introduced features which made it functionally and aesthetically more competent. The engineered wood product is a terrific example of sustainable material, as it is not prepared by depleting any resource. Ironically, engineered lumber products are priced lower than traditional lumber. With this, we can certainly says that the days of lobbying for the traditional lumber citing its cost-effectiveness is all but over.
Illegal hoarding and distribution
Any product that does great business attracts the attention of a few unethical people. There is always the fear of rampant cutting down of forest resources and illegal hoarding and distribution of lumber for the preparation of engineered wood products. This is why it is important for the manufacturer, distributor and the buyer to tread carefully in this regard.
Double-check the paperwork and quality stamps before buying
Never buy your product without double-checking the paperwork. The products that we sell at FA Mitchell do not only come with a verbal guarantee of 'Certified', but each piece is also audited by the Engineered Wood Products Association of Australasia (EWPAA) and stamped for the same at the veneer face.
Always look for written documentation regarding the sustainability of the timber you are buying. Where is the timber sourced from and who handled it before reaching you? Has it undergone a battery of crucial tests? Does it stick to the various quality parameters and meet industry standards? These are only a few among the many questions you must ask yourself.
Overseas distributors may be selling poor products
In present times, some overseas distributors are cashing in on the lacklustre attitude of a few buyers. While a majority of buyers are alert, some really do not want to go too much into what I refer to as "Due Diligence". Asking questions like, "where is the timber sourced from?" is important because it helps you figure out if it is sourced from accredited local plantation forests.
For all you know, your engineered wood product might just be reaching you through an overseas distributor after it has changed hands many times in Asia. It may have been originally manufactured in Bali or Indonesia or Singapore and has not undergone the zero formaldehyde emission rating test at all.
It may not be produced to Australian Standard As/NZS 2269, or it may be of extremely low quality. It may just be one of those pieces where the less you talk about durability, the better. On the other hand, there are companies- and we take pride in believing we are one of them- where even the chipboards (particleboard- traditionally weak in structure) are of a high quality and come with an aesthetic pre-laminate board.
Plywood is a versatile product
Plywood is used in a host of locations including the interior and the exterior areas. It is needed for boat hulls and pontoons (marine ply) just as it is required for visible claddings, walls, ceilings, inner lining of furniture and cabinets, large class rooms, and reception areas, to name a few. What is sustainable for one location or area may not be sustainable for another. For example, plywood used in a humid area needs to be moisture-resistant. The only way a buyer can win is if he is ready to buy from the right supplier.
Offering right products and services is crucial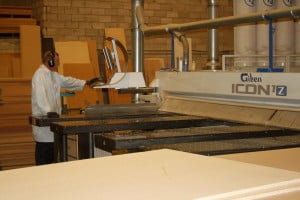 Not only should the supplier have a diverse range of plywoods, fibreboards, particleboards, and melamine to choose from, but it should ideally provide the cut-to-size feature to create plywood in accordance with the brief of the client. After all, we all love customisation, don't we? It is also just as crucial to offer fire retardancy and termite resistance services, all in the name of sustainability.
If you are looking to buy an engineered wood product or a service of high quality at a very reasonable price, feel free to contact me today.