There are two terms for plywood that you can use for internal wall lining and ceiling lining: interior plywood and plywood cladding.
Whether arranged horizontally or vertically, plywood for internal wall lining emphasises the wall or the ceiling surface of a room and transforms its appearance.
What is Interior Plywood?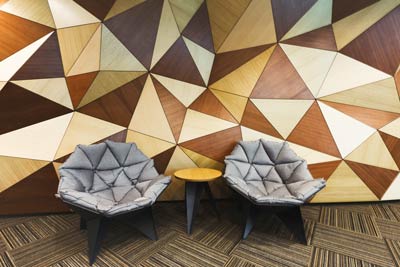 Just as the name suggests, interior grade plywood is most suitable for applications to the internal wall lining in homes and offices.
It is your first choice for non-structural indoor applications which need an aesthetically pleasing finish.
Interior plywood is great for use in making indoor furniture, inner roof linings, ceilings, interior claddings, and walls.
We can make interior plywood with slots and perforations for specific acoustic properties. See our Sonapanel range of acoustic plywood for details.
Using Interior Plywood for Your Internal Wall Lining
Unlike exterior plywood which uses Phenol resin, interior plywood uses UF (Urea Formaldehyde) resin which does not counter moisture effectively.
It makes interior plywood prone to water damage. While decorative laminates using melamine or Phenol can increase its water resistance considerably, it is still most suitable to interior applications.
While storing and handling interior plywood, make sure that you keep it dry and under cover. The cover should not be tight and must not exhibit condensation.
Features and Benefits of Interior Plywood:
Our interior plywood has a clear blemish-free face.
The plywood is suitable for acoustic panels.
They can be fire retarded to AS1530.3 and BCA requirements.
Our interior plywood comes in two sheet sizes: 2400×1200, 2700×1200.
Available in these thicknesses: 3mm, 4mm, 6.5mm, 9mm, 12mm, 16mm, 19mm, 25mm, 32mm.
It has a Zero (EØ) formaldehyde emission rating.
Sourced from accredited plantation forests
What is Plywood Cladding?
We can apply cladding plywood to the internal lining of a building to form interior wall cladding or the exterior as well.
Plywood cladding features a rough sawn appearance for its grooved or solid face. The edges are long and possess a shiplap profile for purposes of easy joining.
Here are other things to know about our plywood cladding:
It is extremely easy to install
Can be set against a timber or a steel framework
Available in both raw and prime coat
We use 100% acrylic paints or stains or water-based oils on them
Available in thickness range 12mm
Compliant with Australian Standard AS/NZS 2269
Available in sheet sizes 2440×1216, 2745×1216, and 3050×1216
Supplying your interior plywood and internal wall cladding needs in Sydney and NSW
As a plywood interior wall panel wholesaler, our extensive range of interior plywood and plywood cladding products are available to our clients in Sydney and all across Australia.
We guarantee plywood that is 100% sourced from local plantations growing local species (e.g., Australian eucalypt hardwoods and Australian Hoop Pine) that are guaranteed renewable and certified with zero formaldehyde emission rating.
Having been around for 68 years, we have seen diverse trends picking and fading over time. This is why our regard for product quality has remained unchanged.
Contact us today and get the right advice from our plywood experts so you source the most suitable product at the right price for your project's internal wall lining.